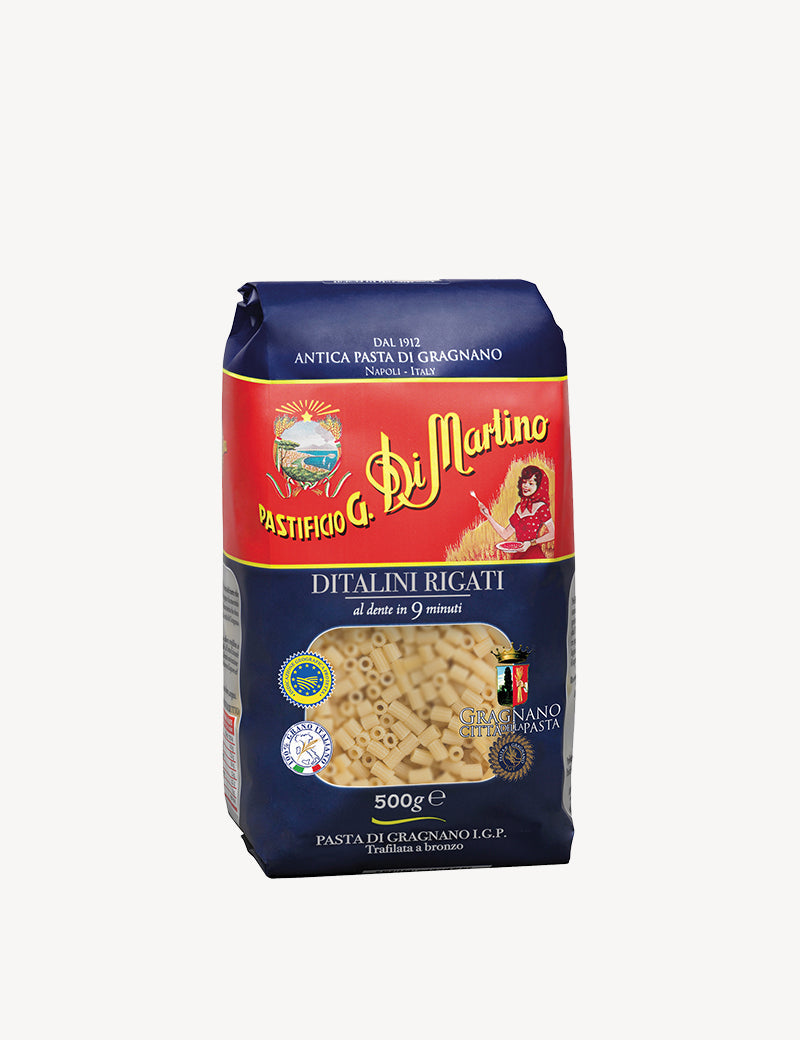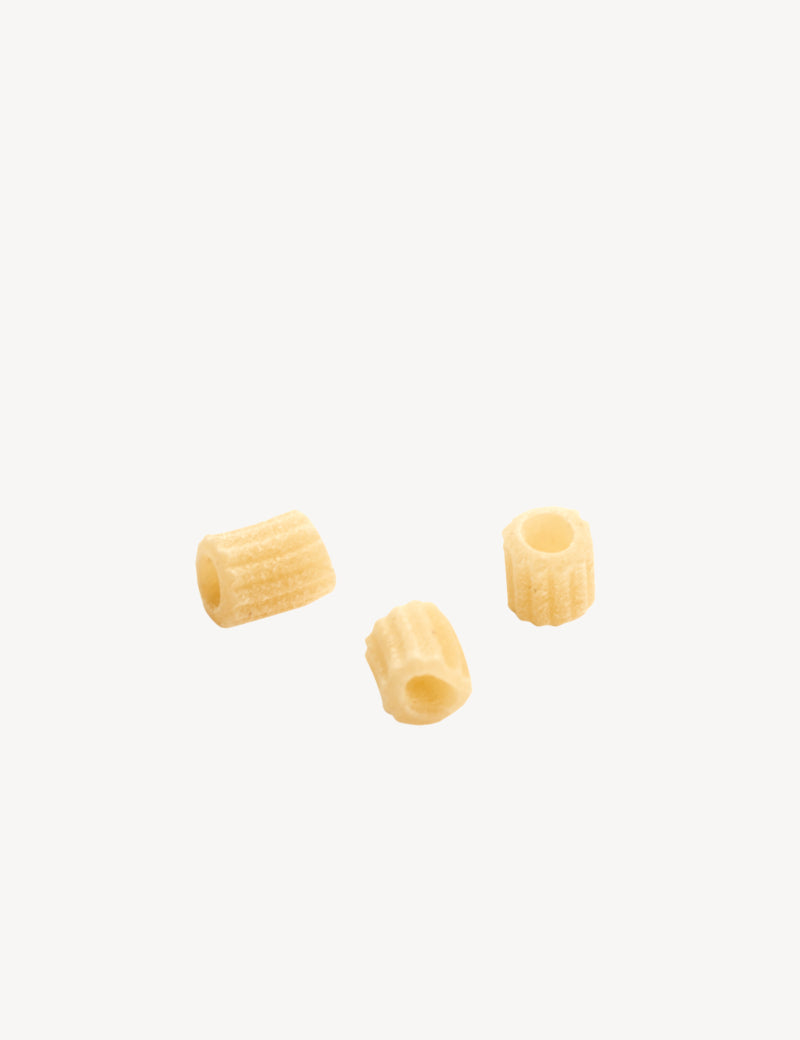 Description
The Ditalini Rigati from Pastificio Di Martino are a very high quality pasta, made with 100% first choice Italian wheat. Thanks to their short and striped shape, they are perfect for obtaining the maximum flavor from soups and soups, but also as a basic ingredient for delicious pasta dishes in white or with concentrated sauces.

The format of our ditalini rigati is available in convenient 500 g packs, which guarantee you the possibility of stocking up on quality pasta at an affordable price. Each 80 g portion of cooked pasta contains only 280 calories.
Our striped ditalini do not contain saturated fat and have a low sodium content. Furthermore, thanks to their high percentage of complex carbohydrates, pasta from Pastificio Di Martino is a food that satisfies for a long time without weighing the stomach down.
Nutrition Facts
Energy: 354 Kcal
Fat: 1,3 g (of which Saturates: 0,3 g)
Carbohydrate: 70 g (of which Sugars: 3,3 g)
Fiber: 3,3 g
Protein: 14 g
Cooking techniques
Mantecata, Risottata, Minestrata, and In brodo
Add a greeting card to your order
Shipping & Delivery
Shipping & Delivery Areas
We deliver our products globally. Shipping costs may vary due to weight and size of the package and the geographical area of ​​delivery

Select your zipcode, and we will choose the most appropriate courier. Once the goods have been entrusted to the courier, you will receive a tracking number in your email. Your costs will be estimated before completing the purchase
Delivery Time
Estimated order processing times are 2 working days (Monday to Friday)

Delivery times will depend on courier and location
Payment Methods
The order purchased by the Consumer through this Website is valid as a contractual proposal and is governed by these general conditions of sale, which are part of the order itself and that the Consumer, by transmitting the order to the Seller, is required to accept in full.
Before proceeding with the purchase of the Products, by sending the purchase order, the Consumer will be asked to carefully read these general conditions of sale and the information on the right of withdrawal.

The Consumer's purchase order is accepted by the Seller sending a confirmation e-mail to the Consumer, to the e-mail address declared to the Seller at the time of purchase on the Website, which will report the summary of the order made and the description of the product.
Each purchase contract for the products is concluded when the Consumer receives the order confirmation from the Seller by e-mail.
100% Italian durum wheat semolina
We use only the best 100% Italian durum wheat semolina (non GMO) containing a minimum of 14% protein. Our wheat comes from fields dedicated to its cultivation for over 2000 years in the south of Italy
Tin Giftbox
Make a Gift
The Di Martino pin-up tin giftbox contains six packs of 1lb of Gragnano PGI pasta made with 100% Italian durum wheat (Non-GMO)
Shop all